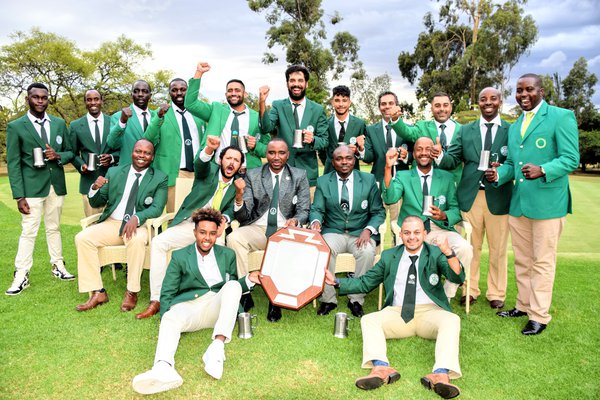 MUTHAIGA GOLF CLUB SUCCESSFULLY DEFENDS THE 2022 TANNAHILL SHIELD TITLE
Muthaiga Golf Club made history once again on Sunday 17th April 2022 by winning the 97th Edition of the Tannahill Shield Golf Tournament at Royal Nairobi Golf Club & retaining its title as the Champion of this prestigious amateur Easter Golf Competition. Muthaiga won with 53pts beating rivals teams namely: Royal Nairobi Golf Club (36pts), Kenya Railways Golf Club (36pts), Western Kenya (35pts), Mombasa Golf Club (30pts), Limuru Country Club (26pts), Sigona Golf Club (26pts), Vetlab Golf Club (32pts) & Karen Country Club (23pts).

We wish to also recognize & congratulate the efforts of our junior team who finished fourth (4th) in the just-concluded Junior Tannahill Golf Tournament held on 11th & 12th April 2022.

To put the icing on the cake for a wonderful weekend for the Club, our veteran players who put an exemplary performance to be crowned the winners of the inaugural 2022 TANNAHILL SENIORS GOLF TOURNAMENT held on Friday 15th April 2022 - You did us Proud, Congratulations & Well Out Gentlemen!

Our sincere gratitude to Kenya Breweries Ltd through Johnnie Walker for their kind support in kitting the Main MGC Tannahill Team 2022.