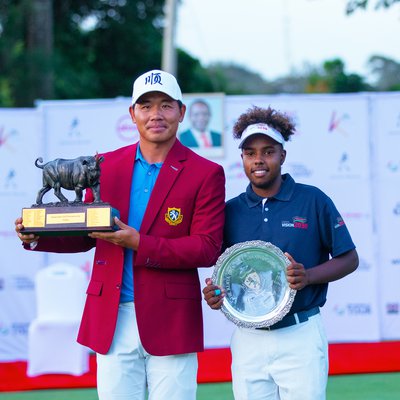 Magical Kenya Open DP Tour Recap
Muthaiga Golf Club, proudly referred to as "Home of Golf" is an iconic Club which boasts a rich history, with a very well-respected membership, a state-of-the-art championship golf course, and deep club traditions. It is the golf club of choice because of her strict adherence to playing golf as a game of integrity and honor. Muthaiga Golf Club has also been voted Kenya's Best Golf Course for 2021 by The World Golf Awards.

Pardon the pan but it has been a truly "Magical" Kenya Open with full of many twists, turns and breathtaking moments on the Muthaiga fairway. One of the signature moments in this Championship tournament has been the budding rise of one of the Club's top junior Njoroge Kibugu, a junior amateur representing Kenya on the biggest golf stage. As of Saturday 5th March 2022, Mr. Kibugu was the only Kenyan left beating many a seasoned golf professional both international and local for the fabled cut. We are proud that he will be flying both the Kenyan and Muthaiga Golf Club flags high in the upcoming Soudal Open in Belgium in May 2022.

While this might seem an abrupt rise to fame for Mr. Kibugu for us in Muthaiga Golf Club, it's only a testament to the Club's strong commitment to the future of golf. At the Club, juniors are not only given the right to compete in the amateur events that take place in the Club but are also acknowledged – just take a look at the Muthaiga's Tannahill Team roster.

But commitment in writing is only empty if there is no follow-through and consistency in cultivating juniors to take up the hopes and aspirations of their seniors. At Muthaiga Golf Club not only is this happening through regular monthly junior clinics but also the Club has devoted a whole lot to instituting a league for the Juniors – Muthaiga Golf Club Simba League where juniors both boys and girls of various ages groups compete and win prizes.

While the Magical Kenya Open has been very eventful for all walks of life both in Kenya and around the globe, it is imperative that as a country we continue supporting not only the youth to learn golf but also facilitate our local professional golfers with the necessary resources and infrastructure to tutor our budding youth talent.

Outside the golf fraternity, there is some exciting news as the Club on Sunday 6th March 2022 welcomed its newest Member to the golfing fraternity, H.E. President Uhuru Kenyatta as an Honorary Member. The announcement was done by the Club's Chairman, Mr. Ronald K. Meru who amongst other things welcomed His Excellency with his Membership Card and official Muthaiga Golf Club Blazer (designed by Genteel Fashion & Grooming). The President joins the Club's elite list of top leaders and opinion makers who comprise the Club's membership – and we look forward to playing with him on our world-class 18-hole championship golf course and delighting him with our top-notch hospitality.

None of these efforts of hosting this year's Magical Kenya Open DP Tour would have been possible without the tremendous support we have received from our partners namely; Kenya National Highways Authority (KeNHA), Ministry of Sports, Heritage, and Culture, Safaricom PLC, Centum Capital Partners, Nestle, Icolo.io, Crown Paints (K) PLC, Directorate of Criminal Investigations, KLM Airline Kenya Forest Service, Monster Energy, the Standard Group & Amref Flying Doctors & Mara Engai Lodge.